Although I am of maori descent, unfortunately I don't have the knowledge to address this whole site in my beautiful language. I just think it's really great seeing a vast number of our people, on the net and, I'd like to dedicate this site to them.


Here are a few I have found and
gotten to know. Click to see.

















If you have stumbled onto my home and your of Maori Descent and would like to be added, dont be shy! E-Mail me or leave me a message in my guestbook. Would love to hear from you.





The Biggest Museum in the World. Click to see


This Maori Webring is a Tu Meke Site!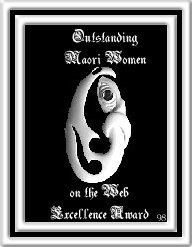 Most Honoured to recieve this beautiful
Award from a Dear Sis' Thank you Chana.
I hang this here with alot of aroha and mana.




under construction!

All the backgrounds and signs you see
portrayed on my pages, I made with
alot of aroha and mana